Tumbling
Tumbling for all ages and skill levels Ages 5 – 18 *$60 per month *
Level 1– Basics – This class is for our beginner tumblers. In level 1, basic skills are taught and athletes learn rolls, handstands, cartwheels, roundoffs, bridges and all the very important basics and body positions that lead to great tumbling!
Level 2– Intro to BHS – All level 1 skills must be mastered to move into level 2. The focus of this class is to introduce the back handspring. Important drills and exercises are taught in this class and leads into performing standing back handsprings. Back walkovers, Front walkovers and front handspings are also incorporated into these classes.

Level 3 – BHS & Connections – All level 2 skills must be mastered to move into level 3. This class works on perfecting the standing back handspring and teaches connections, which includes round off back handsprings and multiple back handsprings in standing tumbling and running tumbling. We continue to work front handsprings and also start introducing front tucks.
Level 4 – Tucks & More – All level 3 skills must be mastered to move into level 4. This class works on standing and roundoff back handspring Back Tucks.
Level 5 – Layouts & Fulls & More – All level 4 skills must be mastered to move into level 4 including a PERFECTED round off handspring tuck. This class works on standing tucks, standing series to tucks, layouts, fulls, and a lot of combination passes!
---
Homeschool Class
Especially for our Homeschool students! $50 per month
This class is held Monday's at 10AM. This class is for home school students only. Students will learn the fundamentals of gymnastics while working balance, flexibility and strength. This class will be 45 minutes of instruction and 15 minutes of open gym.
---
Preschool Gymnastics
Wow, I want it all! *$50 per month* Ages 3-4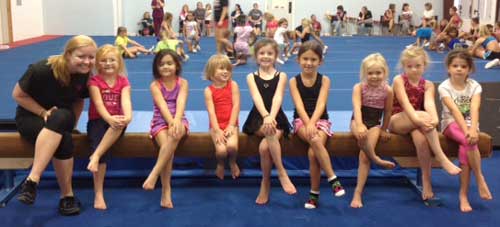 This class focuses on all the different areas of gymnastics. Students will learn skills on all apparatuses, including bars, beam and floor. Fun-nastics meets once per week for 45 minutes. This is a great all-around option!
---
Recreational Gymnastics Classes
Ages 5 and up!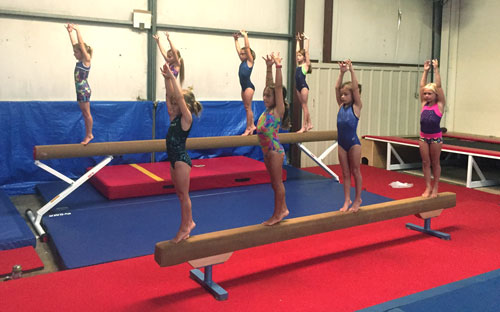 Spirit Athletics' recreational gymnastics program uses a color system to place gymnasts into classes based on their skill level. The time spent in the class of each color will provide your gymnast with skill progressions, strength training, increased flexibility, and lots of smiles.
Our program is broken into three levels, Blue, Silver & Black. Each gymnast will be provided a unique and fun wristband that coordinates with the class color of her level. We encourage our athletes to wear their wristbands to class! Striving to reach the next color is an exciting way to grow with our program and to help your gymnast to set goals and reach them! Each gymnast will have a skill sheet in her class notebook that will keep track of your gymnast's individual progression at each level. During each class, we will rotate to two of the four Olympic events: Vault, Bars, Beam, and Floor. Beginner gymnasts will automatically be placed in a Blue level class. If your athlete has previous gymnastics instructions, please email Coach Brittney at Brittney@spiritac.net to schedule an evaluation to determine which level best suits your gymnast. We will hold class evaluation throughout the year to determine when your gymnast is ready to move to the next level.
---
SCF – Strength, Conditioning, & Flexibility
This class is for our competitive athletes only
This class is for athletes who wish to have extra training in stamina, strength, and flexibility, which will help in learning and perfecting skills in tumbling, gymnastics, and cheerleading.
---
Stunt Class
This class is dedicated to school cheerleaders and CIA cheerleaders $50/month
This class is for athletes who wish to have extra practice on stunts. Co-Ed stunting available! All positions including bases, backspots and flyers, are welcome to enroll in this class!
---
Combination Classes
2 Class Combo Package – $90, 3 Class Combo Package – $105
For athletes who want more than one class! You may choose any classes from the gymnastics, cheerleading, or tumbling programs!
---
All-Star Cheer
Let the competition begin! – Ages 3 -18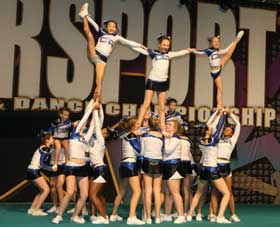 Cheerleading is a great sport for young athletes to take part in! Teamwork, dedication, self-esteem, and confidence, are just a few of the words you will hear in our program. Your child will also develop friendships and memories that will last a lifetime! Teams are formed based on age and skill level. See below for more information.
---
Cheer Invasion All-Stars
This is our competitive, year-round cheerleading program at Spirit Athletics. Teams are divided by age and skill level according to USASF rules and guidelines. Cheerleaders learn tumbling skills, elite stunting, jumps, cheer, dance and much more. Our teams travel to approximately 6-8 local and regional competitions to cities like Charleston, Charlotte, Myrtle Beach, and Columbia. Please see Coach Stephanie or Coach Jennifer for more info on our exciting All-Star program!
---
Private Lessons
All Ages
Private Lessons are a great way to work on a new skill, or perfect the skills you have. Nothing beats one-on-one time with a coach!
---
Classes for School Teams
Stunt and Tumble Classes for School Cheer Teams
We provide a safe environment for your squad to work on their stunting and tumbling skills in preparation for the next game or competition. Your team will receive their own time slot, once a week, customized to your needs. We will be there to help you learn your skills and transition them from spring floor to cheer floor. Enjoy the security that the mats and spring floor provide until you are ready to throw them on the cheer floor. School coaches- call us for rates available time slots.
---