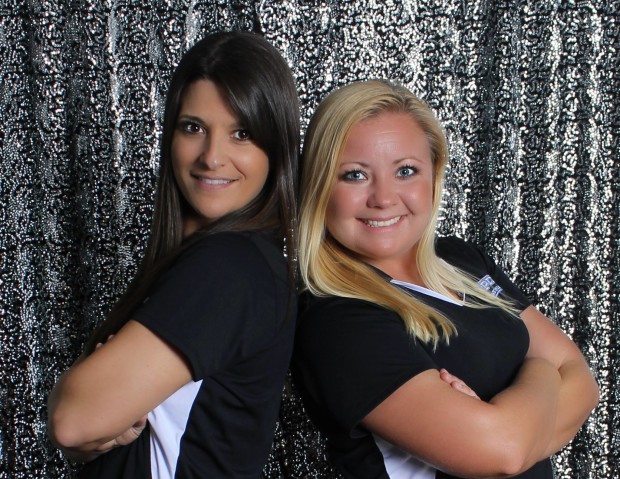 Owners Jennifer Brazell and Stephanie Roof
Coach Stephanie
Coach Stephanie has been a part of the world of gymnastics and cheerleading for over twenty years and she is excited to be offering the opportunity for young people to share in the sport she loves.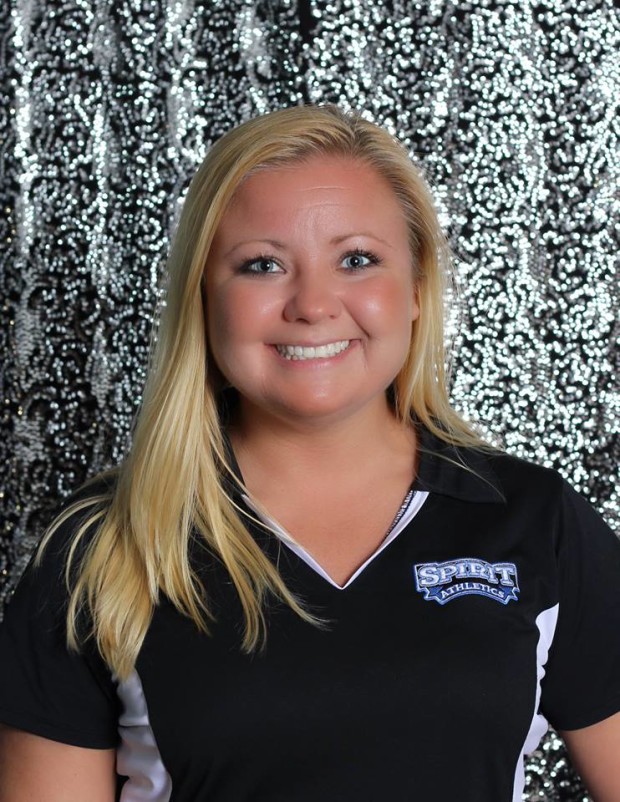 Coach Stephanie received her initial start in the field of gymnastics. She trained for eight years, seven of which was at the competitive level. This eventually led to the discovery of cheerleading in which she has been heavily involved since high school. Coach Stephanie cheered at Cardinal Newman High School and was part of the first two state championship squads. She was recognized as an All American Cheerleader and served as captain her senior year. She was also part of an All Star team that competed heavily up and down the east coast. Stephanie benefitted from being coached by some of the best and most respected cheerleading coaches in the country who now coach many collegiate teams.
After high school, Coach Stephanie attended the College of Charleston where she cheered all four years and was named captain for two. The CofC squad received bids to the National Cheerleading Association's (NCA) annual College National Championship and competed three years in a row. Stephanie was also named NCA Collegiate All American. She graduated from the College of Charleston with a Bachelors of Science degree in Physical Education/Health.
Coach Stephanie began her professional career in high school teaching tumbling and coaching cheerleading. She also coordinated camps and instructed children of all ages and skill levels. During this time, Stephanie was involved in setting up and working competitions throughout the southeast. For the past ten years, both in the Charleston and Columbia areas, Stephanie has continued to coach tumbling and cheerleading, helping to build the skills of young people from beginners to elite levels. She is certified through the USASF, and AHA CPR & Firstaid.
Coach Stephanie's goal is for students in her classes to improve and advance and that her teams are always well prepared for competition. Also, at all times, it is of the utmost importance that students have fun and form lasting memories!
Contact Coach Stephanie: Email
---
Coach Jennifer
When Coach Jennifer was a little girl, she asked her mom if she could play football. When her mom told her no, she decided to try cheerleading, and there she discovered a true passion! She began cheering for her local school and continued through high school, and her senior year was selected as captain. She was also chosen as an NCA All-American Cheerleader, which allowed her to travel to New York City and participate in the Macy's Thanksgiving Day Parade and perform in Times Square with the All-American Cheerleading Squad which consisted of elite cheerleaders from across the nation. Coach Jennifer's competitive squad also traveled all over the southeast competing in regional, national, and international competitions. She has also choreographed award winning routines, taught private lessons as well as team coaching.
Coach Jennifer is credentialed through the United States All-Star Federation, and has coached All-Star teams in South Carolina for the past five years. She is also a Registered Nurse, certified in First Aid, CPR, and Advanced Cardiac Life Support.
Coach Jennifer loves working with children and young people of all ages! Jennifer and her husband Jody live in Lugoff and have 3 children, Riley, Carter and Luke. Coach Jennifer's main goal in coaching cheerleading and tumbling is to pass on her love of the sport! She strives to be the kind of coach that encourages team work, dedication, commitment, and a positive self-image. She hopes to influence each athlete she coaches mentally, spiritually, and physically. Cheerleading, as with any sport, can be such a positive influence on a young athlete, and Coach Jennifer believes it is up to the coach to ensure that happens!
Contact Coach Jennifer: Email
---
Coach Brittney
Coach Brittney has been in the sport of gymnastics for 20 years. Her career started when she was 6 years old when her parents knew she needed to burn off some of her energy that had her bouncing and tumbling all over the house. They enrolled her at Columbia Gymnastics Academy and her extreme passion, commitment and love for the sport was quickly formed. She became a competitive gymnast and competed up to level 8, winning several meets as well as state titles. Spending 17 hours per week training, her coaches became family, counselors and mentors.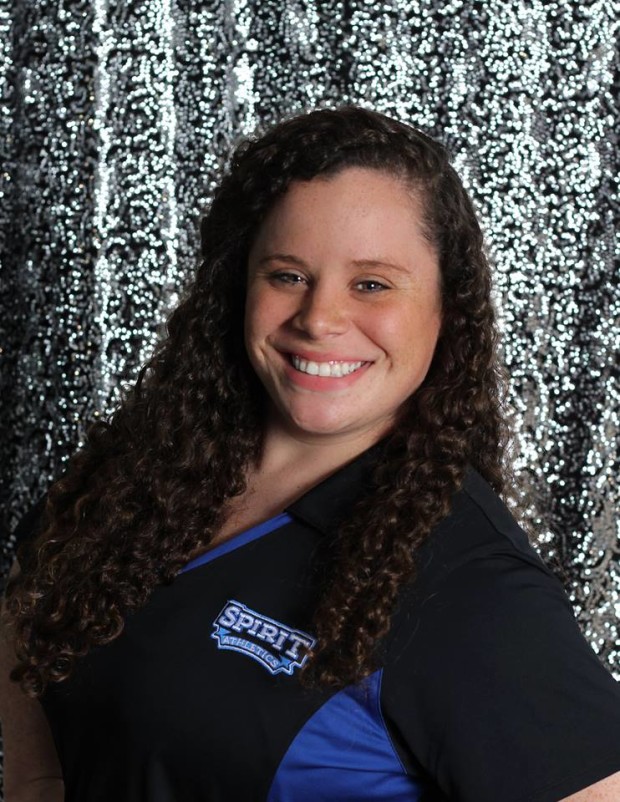 At the age of 15, Brittney knew she wanted to give back the gift that was given to her and joined the coaching staff at Columbia Gymnastics Academy as a recreational coach. Brittney's passion for coaching continued to grow, and she became competitive coach at All Star Gymnastics working with Level 3 and 4 gymnasts moving up to optional levels for 3 years.
Brittney spent the summer of 2008 interning at Woodward Gymnastics, a prestigious summer camp. She worked alongside some of the top collegiate coaches from all over the nation and Olympic gymnast Morgan White as Brittney coached several college athletes and high level gymnasts. Brittney was named master coach and assisted other coaches with lesson plans and training. After her internship, Brittney was hired as the Head Gymnastics Coach at Toccoa YMCA Gymnastics in Georgia where she spent a year building the program before moving back home to South Carolina. Brittney has coached several gymnasts that have won state and national honors and prides herself on the tools, lessons and relationships built within her programs. Coach Brittney is certified in CPR and is a CPR Instructor. She lives in Lugoff, with her husband Jeff and their three daughters.
Contact Brittney: Email
---
Coach Wyatt
Coach Wyatt has been a part of the cheerleading world for 7 years and counting. After trying football, baseball, and even wrestling, Coach Wyatt decided to take up tumbling with our very own Coach Stephanie, who helped spark his interest in cheerleading.
Coach Wyatt cheered at Lugoff-Elgin High School where he was awarded the Leadership Award by his coach and teammates. He also cheered competitively with All Star gyms throughout his high school years.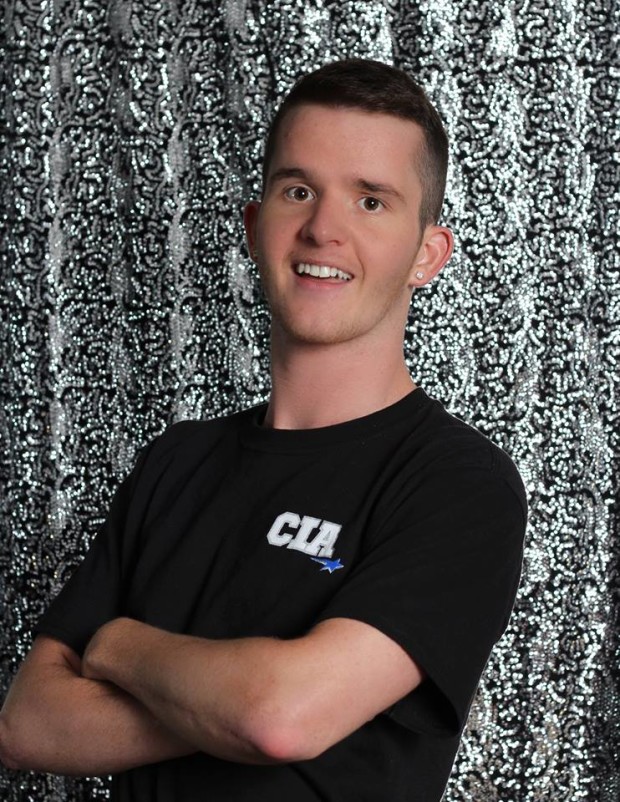 After graduating from high school in 2013, Coach Wyatt was an assistant coach for the Lugoff-Elgin Middle School competitive cheerleading team for two years. During his time coaching at LEMS, the Lady Leopards took home 3rd place at the biggest competition in South Carolina for middle school cheerleaders and placed in the top three at every competition in which they competed. Coach Wyatt also assisted in choreography for the team's dances and cheers for games as well as the award winning competition routines.
Wyatt is currently an aspiring Accounting Major at Central Carolina Technical College where he plans to graduate in the spring of 2016.
Coach Wyatt strives to instill a positive work ethic while facilitating structured, safe, and fun practices and classes. His goal is to help every cheerleader be the best they can be, by accommodating each individual's personalities and learning styles.
Contact Wyatt: Email
---
Heather Yarborough – Program Director
Contact Heather: Email
---
Mike Burson – General Manager
Contact Mike: Email